Products
Waveney Lodge honey is as raw as it comes - the honeycomb frames are spun extracted direct from the hive and the honey is only coarse strained for any beeswax. Unlike mass produced honey, our local Suffolk honey is not pasteurised or fine filtered. This ensures the pollen is retained along with all the benefits that the bees and nature intended.
Our runny summer English honey is great on porridge or granola and can range from light golden to quite dark through the season as the different nectar sources vary the colour. Natural honey will eventually granulate, but the time taken depends on the nectar source and the ratio of fructose to glucose sugars - it may develop large crystals or become spoon bendingly hard. Our soft set English honey uses spring honey to produce a long term fine granular honey which has the smooth consistency of butter and is perfect on toast or crumpets.
Each honey batch is unique to an individual hive...
Each honey batch is unique to an individual hive and for this reason, pure honey lovers can look forward to subtle differences in taste and colour from one hive to another - a truly local taste experience.
Honey is best kept in the cupboard at normal room temperature and never stored in the fridge. Honey is not suitable for infants under 12 months.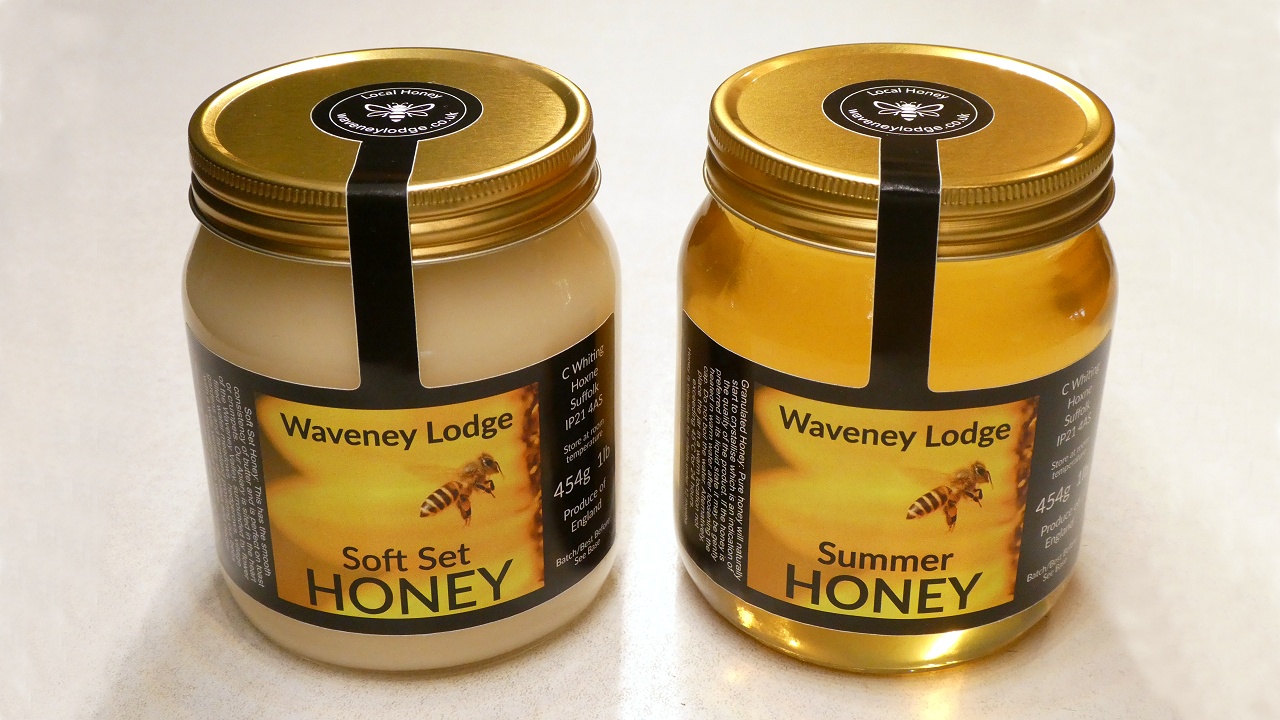 Where to buy locally
Waveney Lodge honey is available for sale from Hoxne Shop & Post Office, Low Street, Hoxne IP21 5AR. Look for our Bee Happy label and support your local shop.
Ordering on-line
You can also buy from us on-line with all honey priced at £6 per 454g (1lb) jar or £5.50 each for two or more jars.
Both soft set and runny summer honey is normally in stock unless shown otherwise.
Honey can only be delivered within the UK. The available shipping options are:
£3.90 UK 1-2 day delivery by Royal Mail Tracked 24 or courier service, for any quantity or honey type mix.
Free local collection by prior arrangement